We're a proud ITAD company!
We're an ITAD business that specialises in refurbishing and recertifying enterprise IT hardware and finding it a new home – whether that be an end-user or a reseller. We have the skills, resources and experience that allow both your and our business to contribute to the circular economy.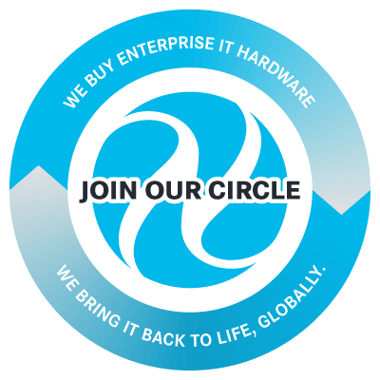 Our circular mission explained.
We play an important role in minimising electronic waste, protecting valuable resources, and lowering the environmental effect of obsolete technology by properly managing the lifecycle of enterprise IT hardware.
The process involves secure disposal, recycling or re-marketing of the hardware in an environmentally responsible way.
We ensure…
Asset tracking to keep a record of end-of-life cycle, ownership, and usage.
Secure data destruction to guarantee sensitive information does not fall into the wrong hands.
Asset re-marketing, our handy technicians will refurbish to like-new condition.
Asset recycling, if assets are no longer suitable for reuse, we'll send them to a specialised recycling facility.
How we do it: Refurbishing and recertifying enterprise IT hardware involves a comprehensive process of inspecting, testing, and repairing the equipment to ensure it works at optimal performance. This process may include hardware upgrades, cleaning, and cosmetic enhancements to restore the equipment to a like-new state.
Partner with us and benefit from:
High value returns - we have a strong relationship with an extensive range of markets allowing us to provide you with optimal pricing. Our end user clients allow us to find a home for the hardware ending its journey in the circular economy.
Improved cashflow with upfront payment available.

Minimising your time investment and risk of price volatility by providing you with a full valuation of goods prior to you purchasing or receiving the goods. This allows you to offer a premium price to your clients, resulting in increased business closure as you'll be offering closer to market price.

Consignment deals - allowing you to benefit from our optimal sale prices to various market sectors where you take majority of the profit in a split agreement deal.

An efficient disposal process.
Free data erasure or destruction via Blancco
Having no limits to the quantity of hardware you sell to us – we have multiple hubs to facilitate large amounts of IT hardware.



We'd love to have you in our circle.
Fill out the form and one of our experts will be in touch as soon as possible.